Teeth Whitening in Manchester
Cosmetic laser teeth whitening that keeps your smile glowing
We offer non-peroxide laser teeth whitening at Boombae, an easy system that can get you up to 12 shades lighter in a couple of sessions!
Get your teeth looking pearly white for just £80 per 60 minute session. We recommend top-up sessions for optimal results.
We also have an ongoing offer for couples. 2 people 60min session at the same time in the same room for £120. This works out at £60 each, instead of £80.
Our clients find the results to be quite long-lasting. Please keep in mind that consumption of staining food and drinks such as coffee, red wine and curry as well as tobacco will make your teeth considerably darker.
This is a completely painless system. However, if you tend to have sensitivity to hot or cold drinks & food, this might appear during the first 24-48 hours after your whitening appointment.
We have two clinic rooms and operate at the highest hygiene & safety UK and EU standards.
Click here to book your teeth whitening appointment with Boombae today and get yourself a smile you can't help but show off. You can also check out www.laserclub.co.uk for more information on our laser services.
Questions? Email us hey@boombae.co.uk
Want to see more? Click here to follow us on Instagram
Quick
Experience the best power whitening solution available in the UK in less than an hour.
Safe
UE approved, award winning teeth whitening gels applied by highly trained staff.
Laser
3rd gen. 36 AURA light, the foremost cosmetic whitening technology.
Aftercare
Wide range of retail products to improve your experience.
Looking for that dreamy Pearly smile?! Don't want to spend £300 at the dentist?
We in 

Boombae are excited to offer Cosmetic teeth whitening!

* 100% compliant NON peroxide

* Fully insured at Boombae

* Naturawhite professional system

* Up to 12 shades brighter in ONE session
What to expect on your teeth whitening appointment
Once you arrive at Boombae, you will be given a step-by-step guide and a simple set of instructions to follow. Naturawhite self-administered teeth whitening solution is quick and easy to apply. You can have a read and ask our highly experienced staff any questions.
We use a shade guide to let you check the shade of your teeth before and after the appointment.
You will be prompted to gently cleanse and scrub your teeth to remove any surface stains and prepare the enamel for the laser teeth whitening. Then you will be asked to brush your teeth with our textured toothpaste to give the teeth a deep cleanse.
You then place a sterile mouth guard into your mouth and put on a pair of safety goggles to protect you from the laser light.
Sit back, relax and let the teeth whitening gel and laser light do its magic! It creates an oxidation reaction that will remove stains and tooth discolouration from the inside out.
Your teeth should stay noticeably whiter for a considerable amount of time after having a laser teeth whitening session. Even if you don't quite achieve the shade leap you were hoping to, two or three full sessions will significantly help you get there!
Before & After your appointment
Please make sure you don't consume any highly staining food or drinks such as red curry, dark sauces, red wine, sugary drinks, coffee or tea 24 hours before and after your teeth whitening sessions. We also advice no smoking prior and after your appointment.
Individuals who experience sensitivity may also wish to avoid foods that are too hot or too cold upto 48 hours after the appointment.
Our power whitening system can get your teeth upto 12 shades brighter in one 60 minute session. However, this is not guaranteed. Our customer average of shade leap in one session is around 6-8 shades lighter. This heavily depends on the foods you consume frequently and your smoking habits.
Grace has been really welcoming to me and my mum who got two sessions of teeth whitening done. This is the first treatment that has really worked for us! And the icing on the cake was just how lovely Grace was. She explained everything really well. I would recommend this to everyone! I personally have gone up a few shades but what was surprising was my mum who is a smoker has also gone up a good few shades! They're very white and have stayed that way! Thank you Grace!
Zarah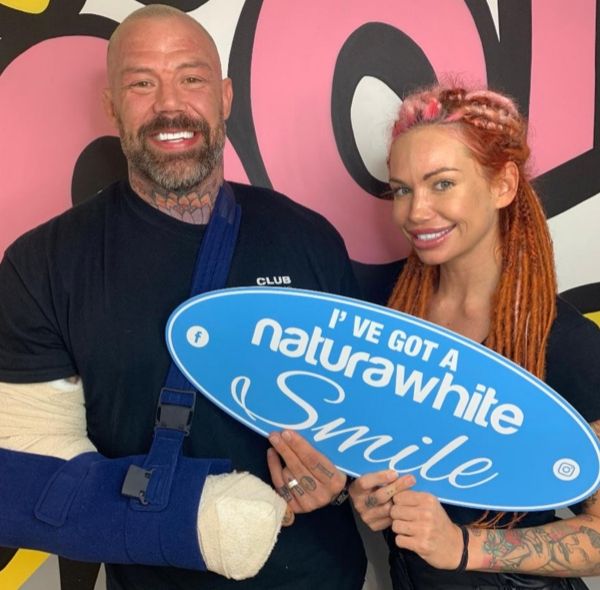 Book your teeth whitening session
Interested? Click below to book your teeth whitening appointment and show off your gorgeous smile.