Healthy Hair Extensions in Manchester
Are you fed up of thin hair? Have you gone through the mill with other extensions and bonds ruining your hair? Try Kia Knots Extensions!
We are proud to offer a healthy hair extensions technique available in the market- if not the healthiest! Our very own twist on the classic Brazilian knots. Kia Knots is a solution that uses NO glue, NO heat, NO bonds, NO weaves, NO metal, NO machines and NO chemicals. No damage!
Kia Styles is a Brazilian knots specialist that has applied her own unique twist to the technique. She will leave you smiling from ear to ear after your appointment. Kia's researched and trialled many other solutions, knowing that extensions are such a growing industry but still had so far to come when it came to preserving the hair of the client.
Book your KIA Knots Extensions Consultation appointment with Kia here.
With nothing causing damage to your hair, you will watch it grow healthy underneath. Since the knots are placed close to the scalp, it can also help stimulating hair growth.
We use only 100% human Remy hair extensions of the best quality. We have travelled the world looking for the best Remy human hair, and we found an eco-friendly, ethical provider to guarantee the best hair quality.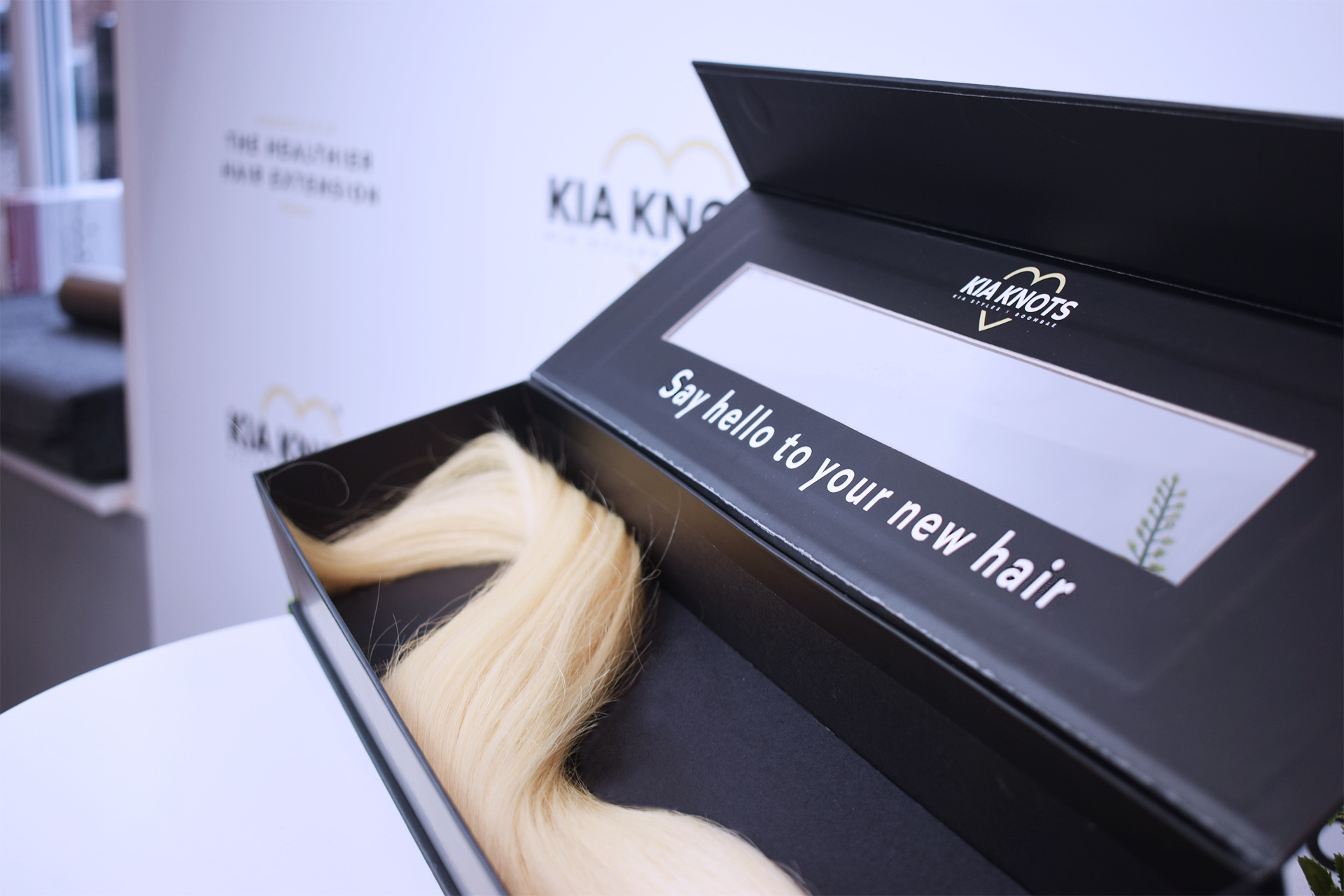 What hair do you use for Kia Knots Healthy Hair Extensions?
We use the highest quality human Russian hair. Why? Because it is the best out there! It's not cheap either but it lasts. It is silky smooth and robust! You must be careful when buying hair (if you ever do!) we have travelled all over the world to source the best. We have sourced a sustainable and ethical supplier in Russia that we trust and love to make sure our KIA Knots Extensions are the best out there.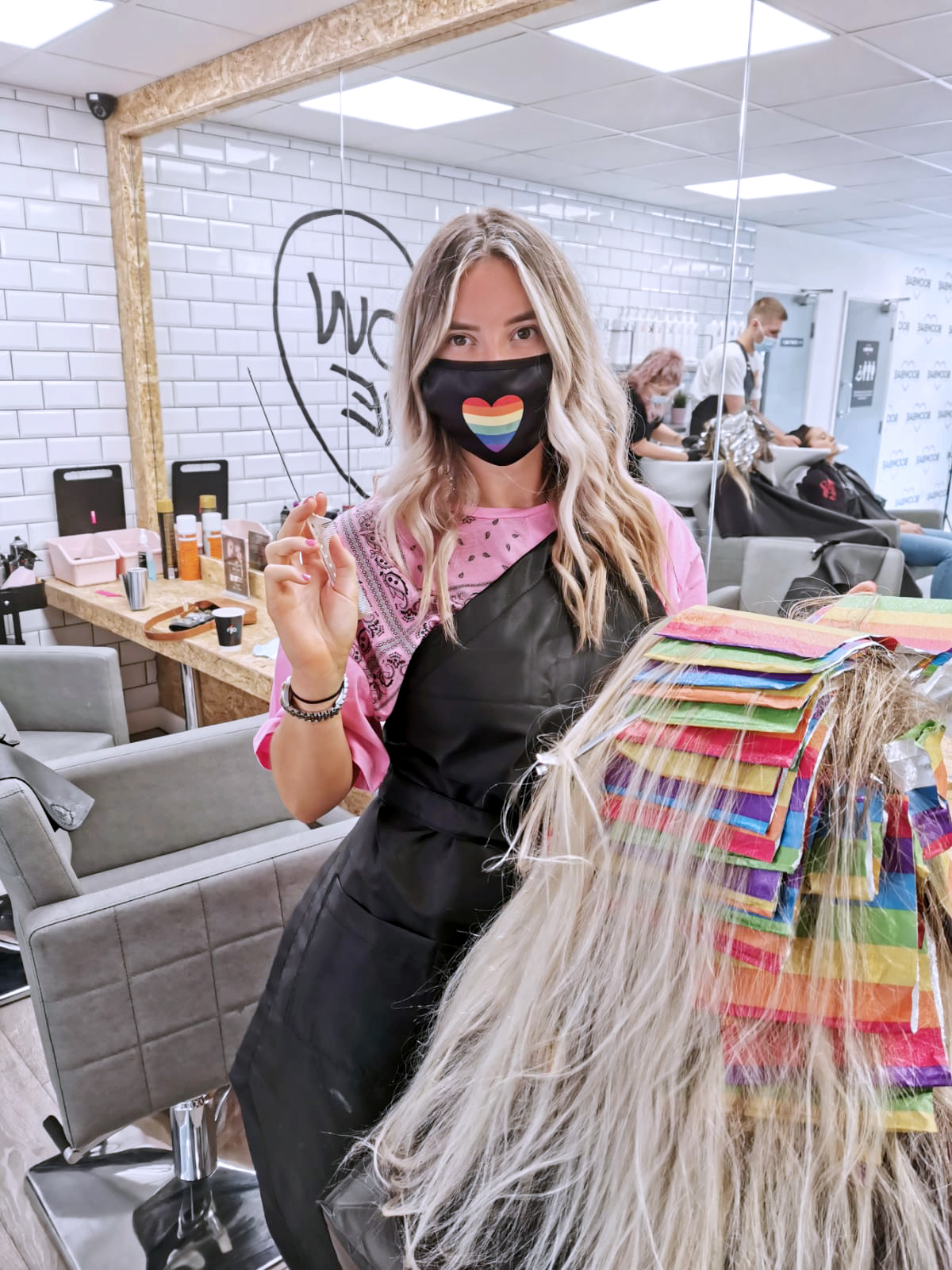 Are Kia Knots Healthy Hair Extensions good for fine or thin hair?
Absolutely! Kia Knots extensions work with any type of hair, from fine & light to thick, curly & dark. However, we always advise any interested client to book in for a consultation before booking your installation. This is to make sure we colour match your hair properly and to discuss your hair goals with you. Please keep in mind that if you hair is very fine/brittle or very thin on top we might not be able to install the extensions.
If your hair is very short (pixie cuts) we recommend letting it grow to at least bob length.
Are Kia Knots Healthy Hair Extensions worth it?
Let's get the numbers down. A full head of KiaKnots for extra lenght and thickness is £600 (colour costs on top) with £200 maintenance every 2-3 months. With proper aftercare, your hair can last over a year. This is a full year of amazing, perfectly colour matched extensions. Compared to other extensions, this works out as a very affordable hair extension method considering our hair is 100% cuticle aligned remy hair.
In addition to that, you also have the certainty your hair won't be ruined when you remove them or get a fresh head of extensions.
How does Kia Knots Healthy Hair Extensions work?
If we don't use glue, metal, chemicals, tapes or any other product as such… How do we attach the hair extensions to the hair? It is quite simple really: by using an elasticated thread. This way, we tie the strands of hair to your natural one. Thereby, it allows for easy maintenance and removal.  No harsh chemicals needed to detach the extensions or metal tangling and matting your natural hair. The knot is placed close to your scalp, making it easy to hide and not at all noticeable, not even with hair up!
Always look for certified KiaKnots Platinum extensionists to install your hair extensions if you want the best results. Poor technique will result in knots falling off or knot bumps showing in your hair.
Are hair extensions bad for your hair?
It depends on the type of extensions and how they are applied, but the short answer for most of them is yes. Kia Styles (creator of KiaKnots) was fed up with ruining her client's hair with other hair extension methods. On her 12 years career, she had her fair share of hair thinning, matting, snapping and even some serious cases of traction alopecia. She set out to develop a healthy technique that is not only harmless to the natural hair, but can also help stimulating hair growth! That's how Kia Knots was created. Kia Knots is the healthier hair extensions.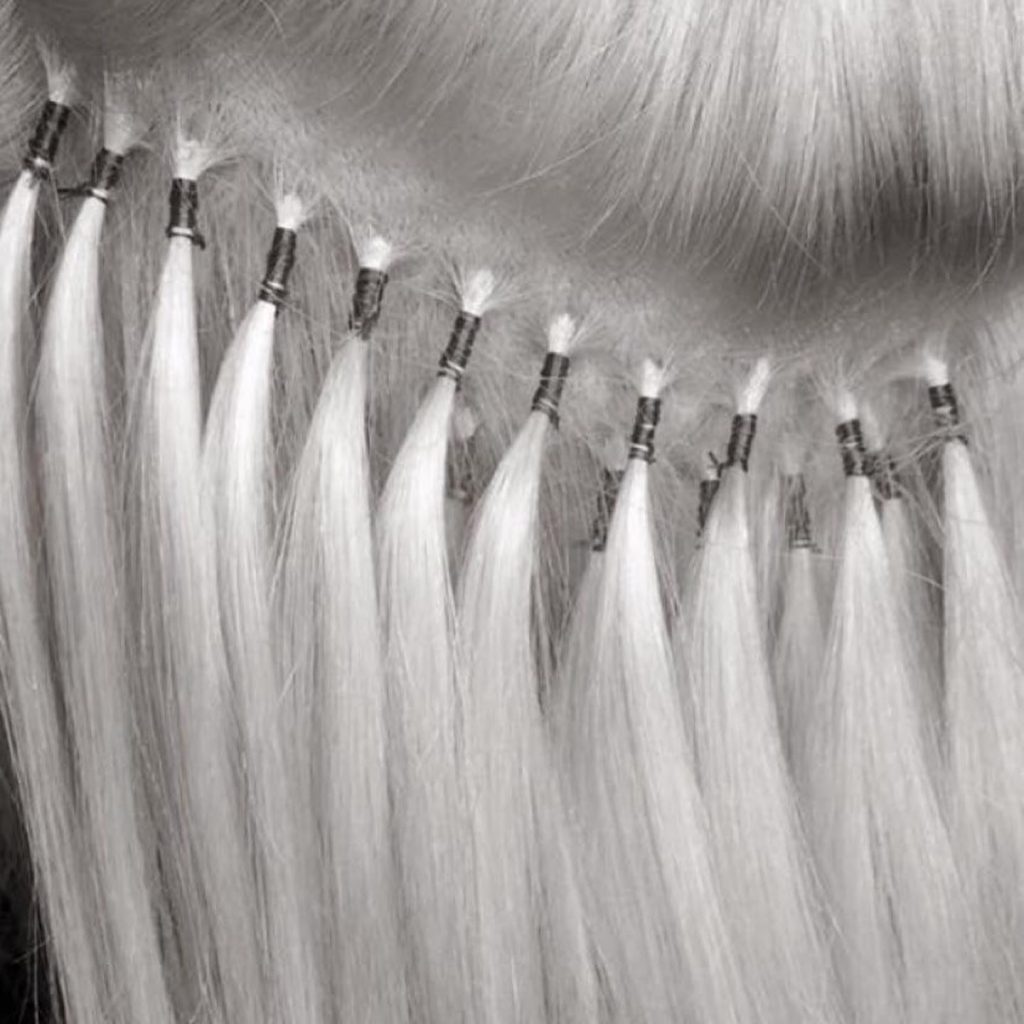 KiaKnots Healthy Hair Extensions aftercare
The maintenance is very straight-forward and easy to follow. Brush your hair often with a tangle teaser, don't wash your hair too often and make sure your maintenance appointments are scheduled in time.
You can swim on pools & sea, style your extensions as you would your natural hair, and use most products. We always recommend picking up an aftercare kit before leaving your salon to make sure you have the best tools to take care of your hair extensions.
You can check our complete aftercare guide here.
What to expect at your Kia Knots Hair Extensions Consultation
Before installing your Kia Knots Hair Extensions, you need to book in for a free consultation where we take a look at your hair and make sure it will be properly colour matched. We discuss your hair goals and make a plan to achieve any colour change or big transformation you might want.
Firstly, we take a look at your hair and show you the hair options. We make sure you are happy with the amount of hair & lenght required.
Then, we give you a consultation form & discuss any possible medical conditions to ensure you are suitable to go ahead with the installation
When the end hair goal requires colouring, we also perform a patch test on your skin to discard any bad reactions
If you then decide you want to go ahead with your hair extensions installation, we will book a slot and take £200 deposit to secure it & order your hair.
Book your free consultation here
We are a franchise based in Manchester, our HQ being the award winning salon Boombae. When you click on the button you will be taken to our Treatwell widget. Please select Hair Extensions > Kia Knots Consultation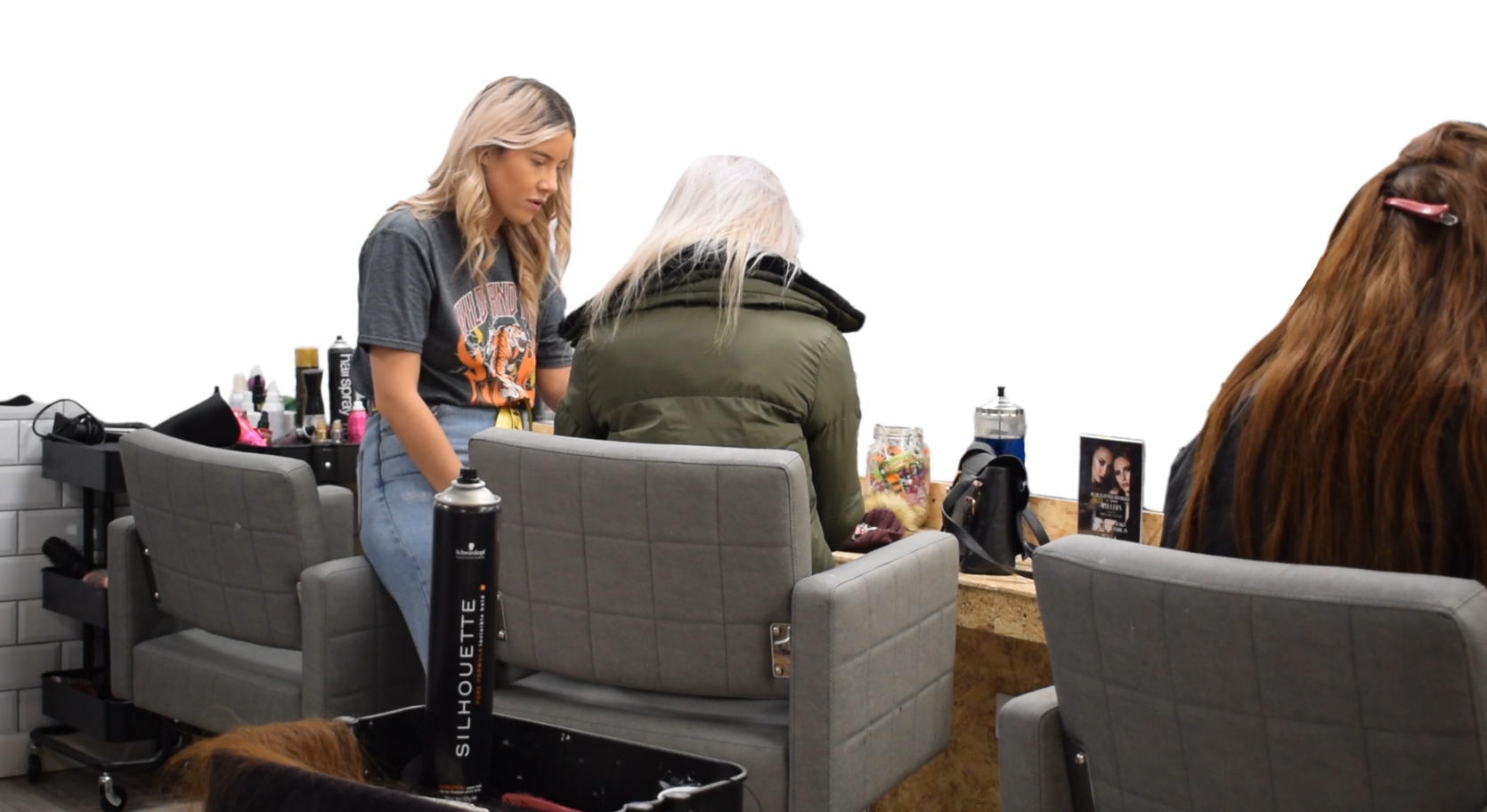 Check our before & afters!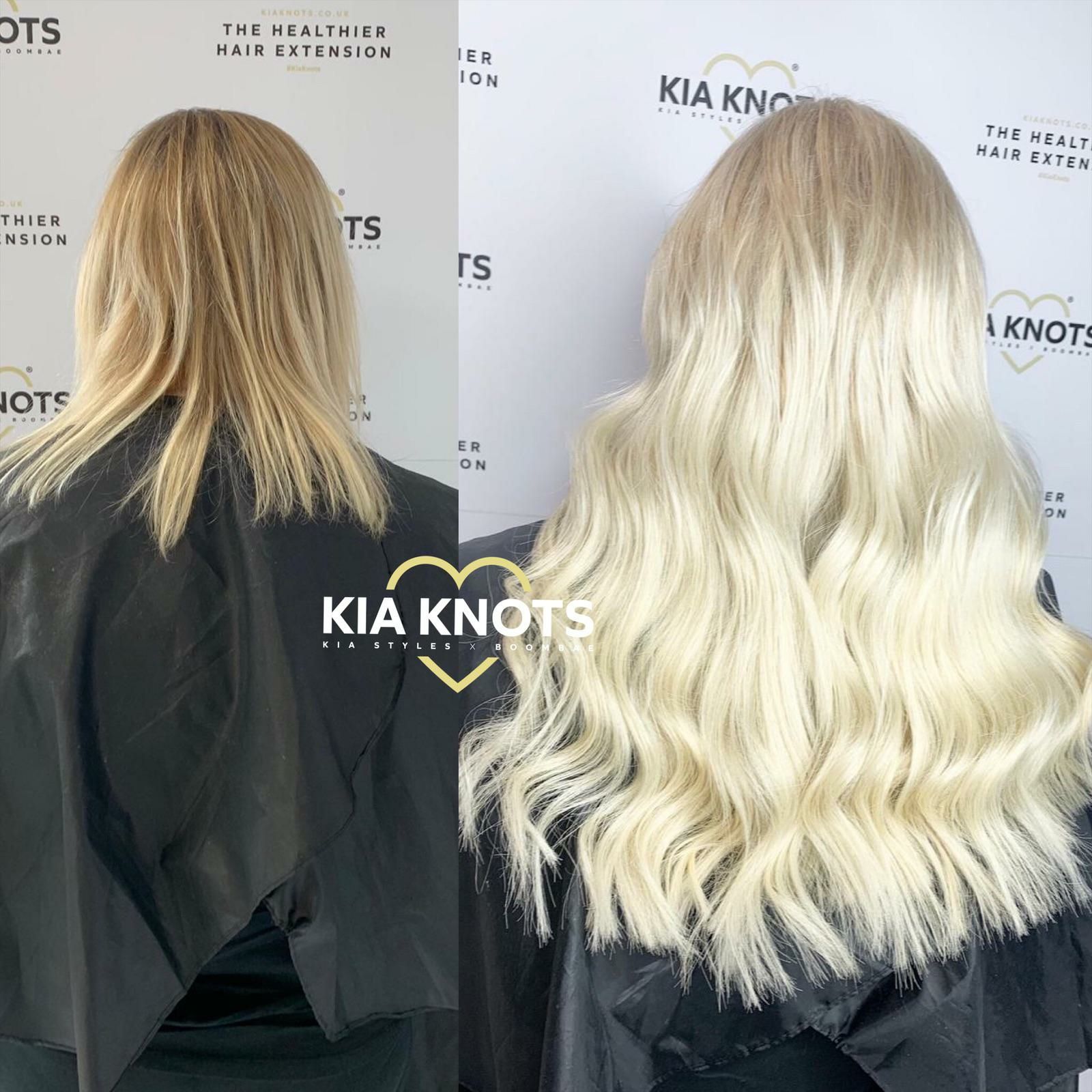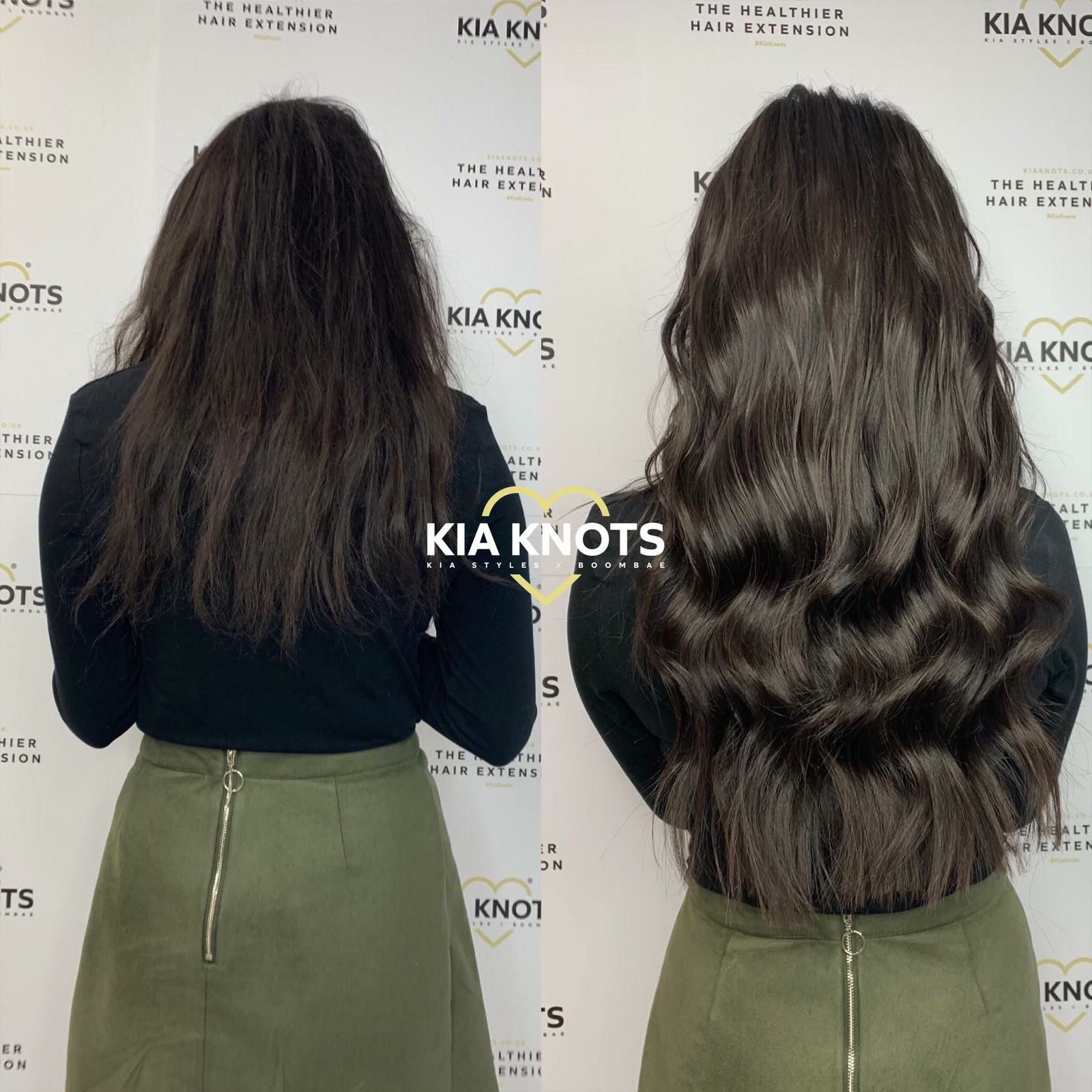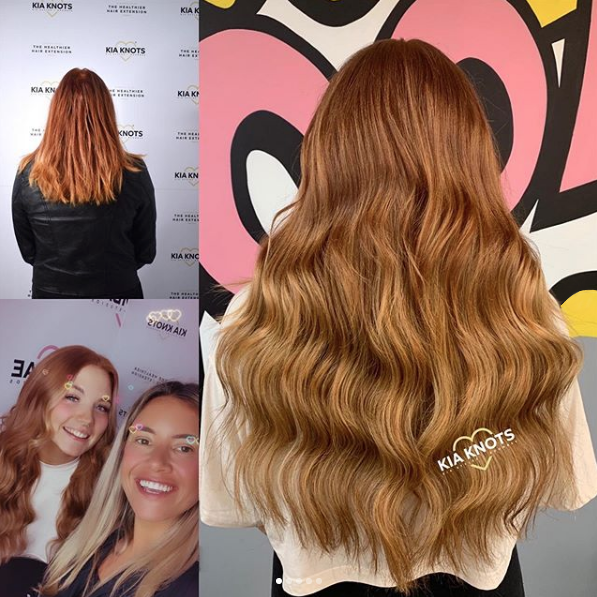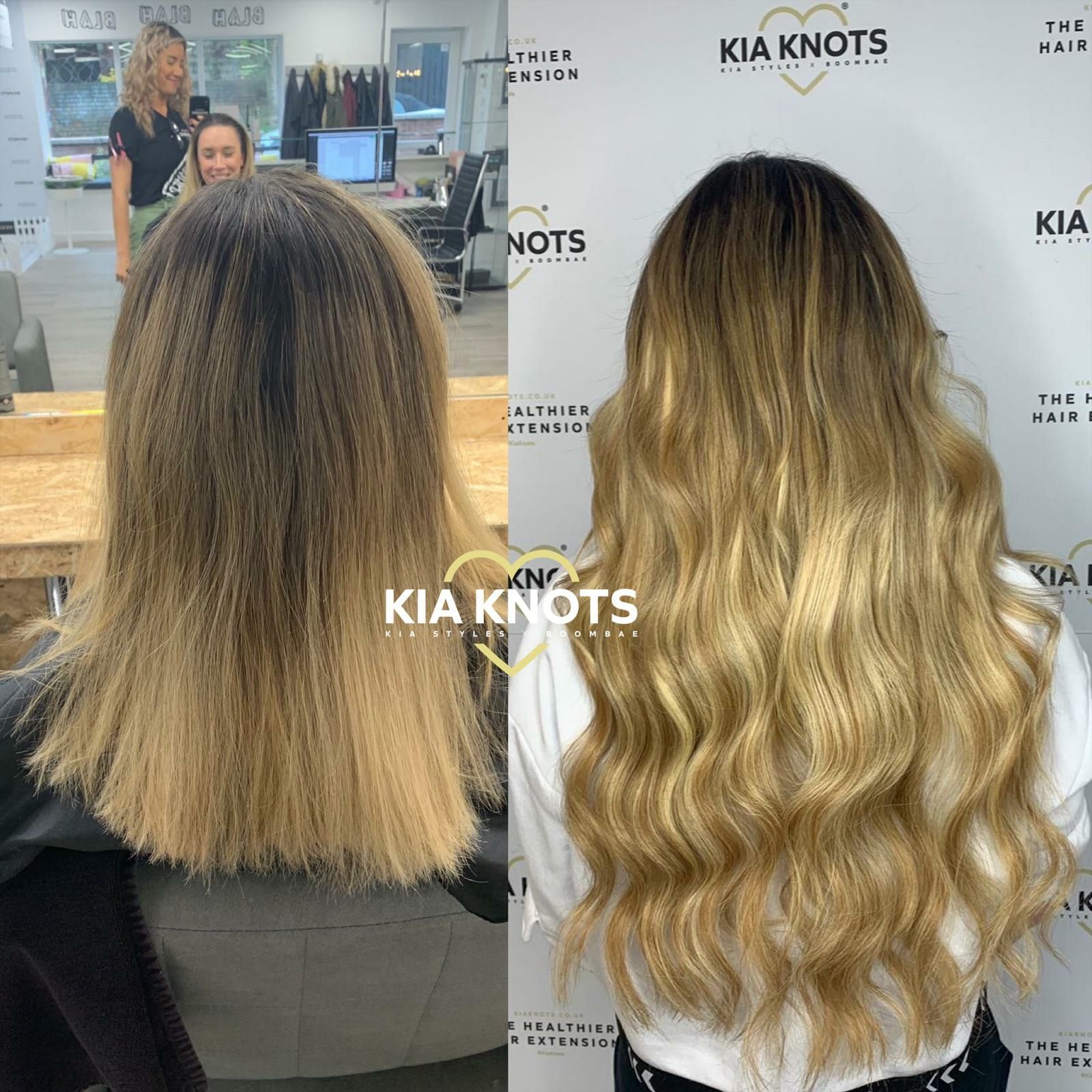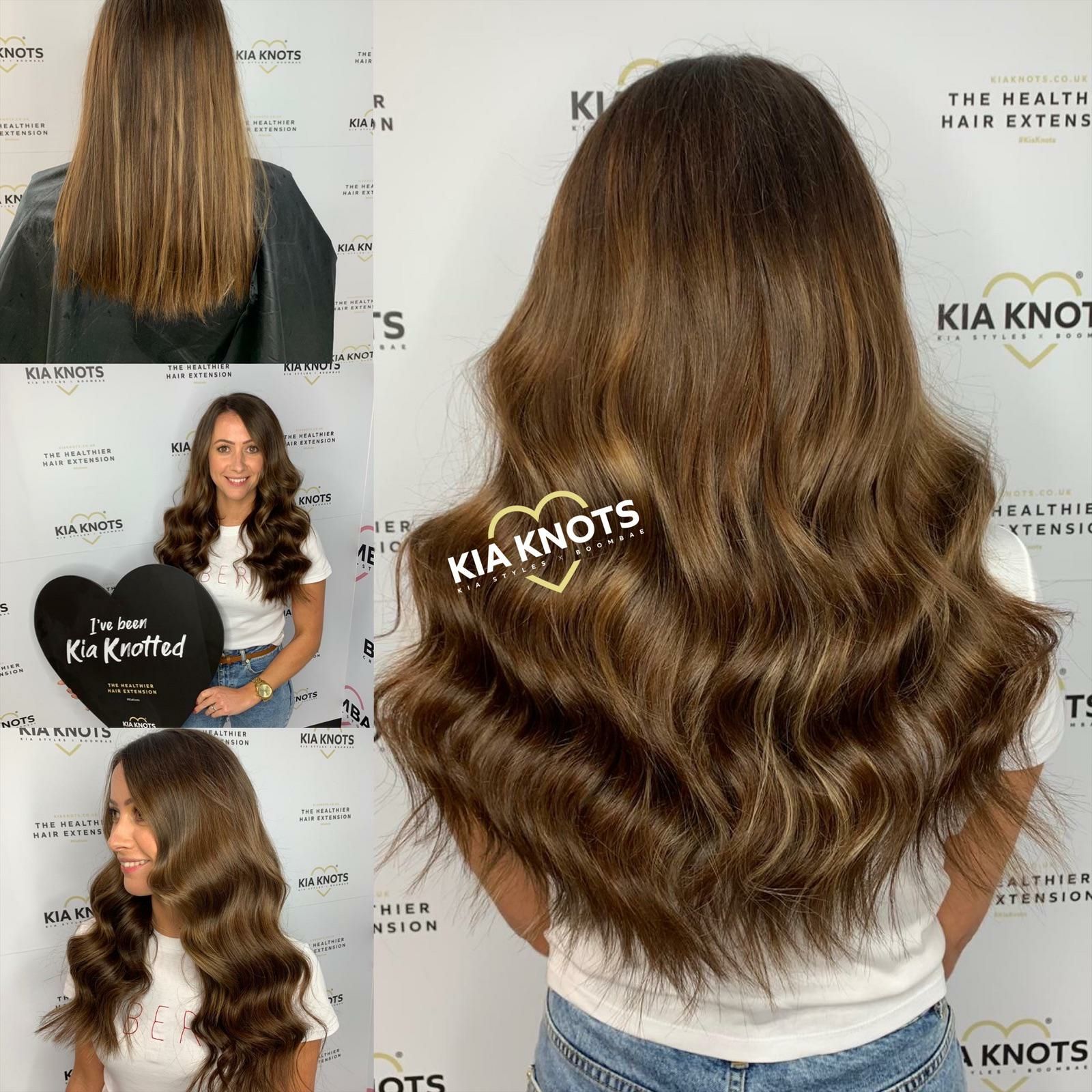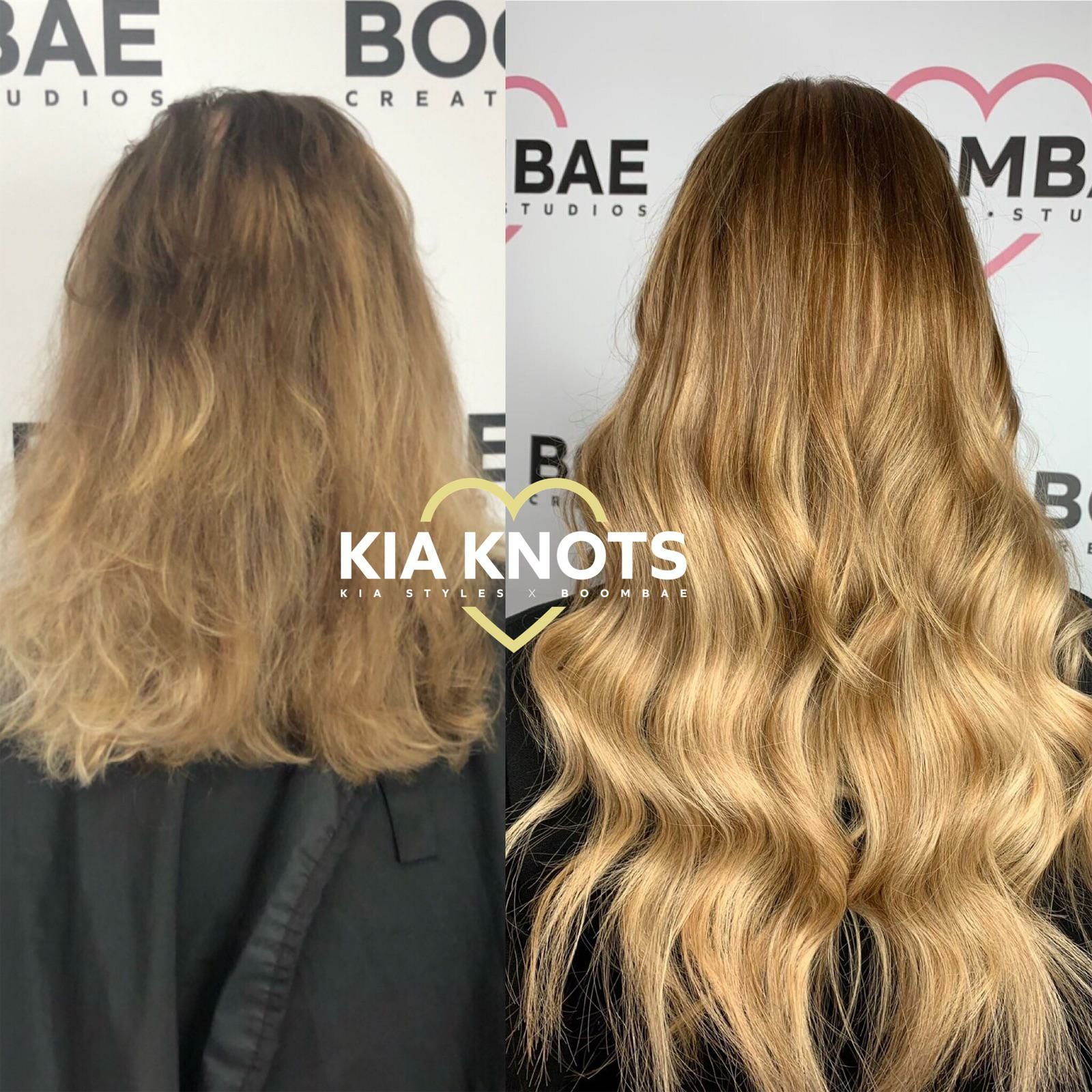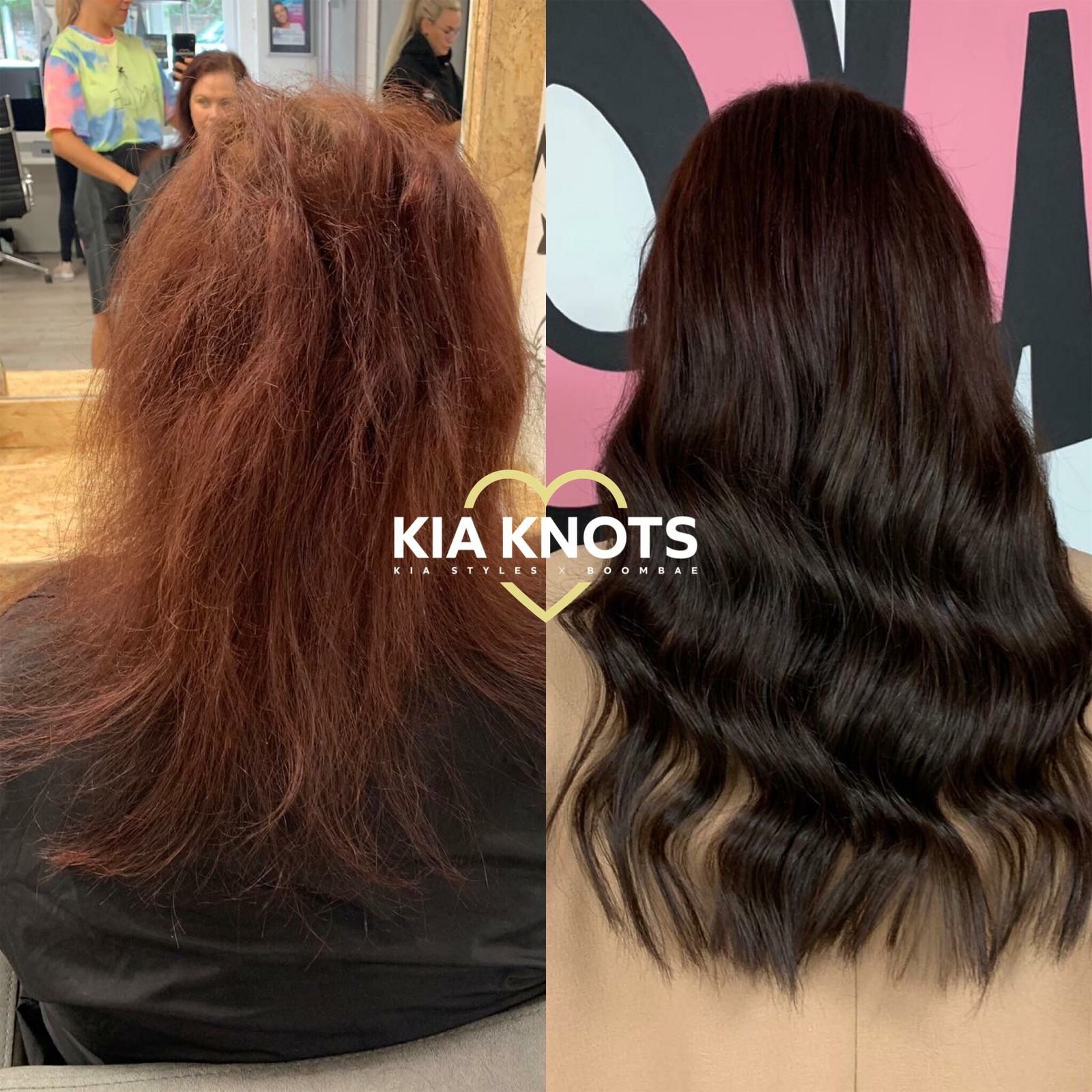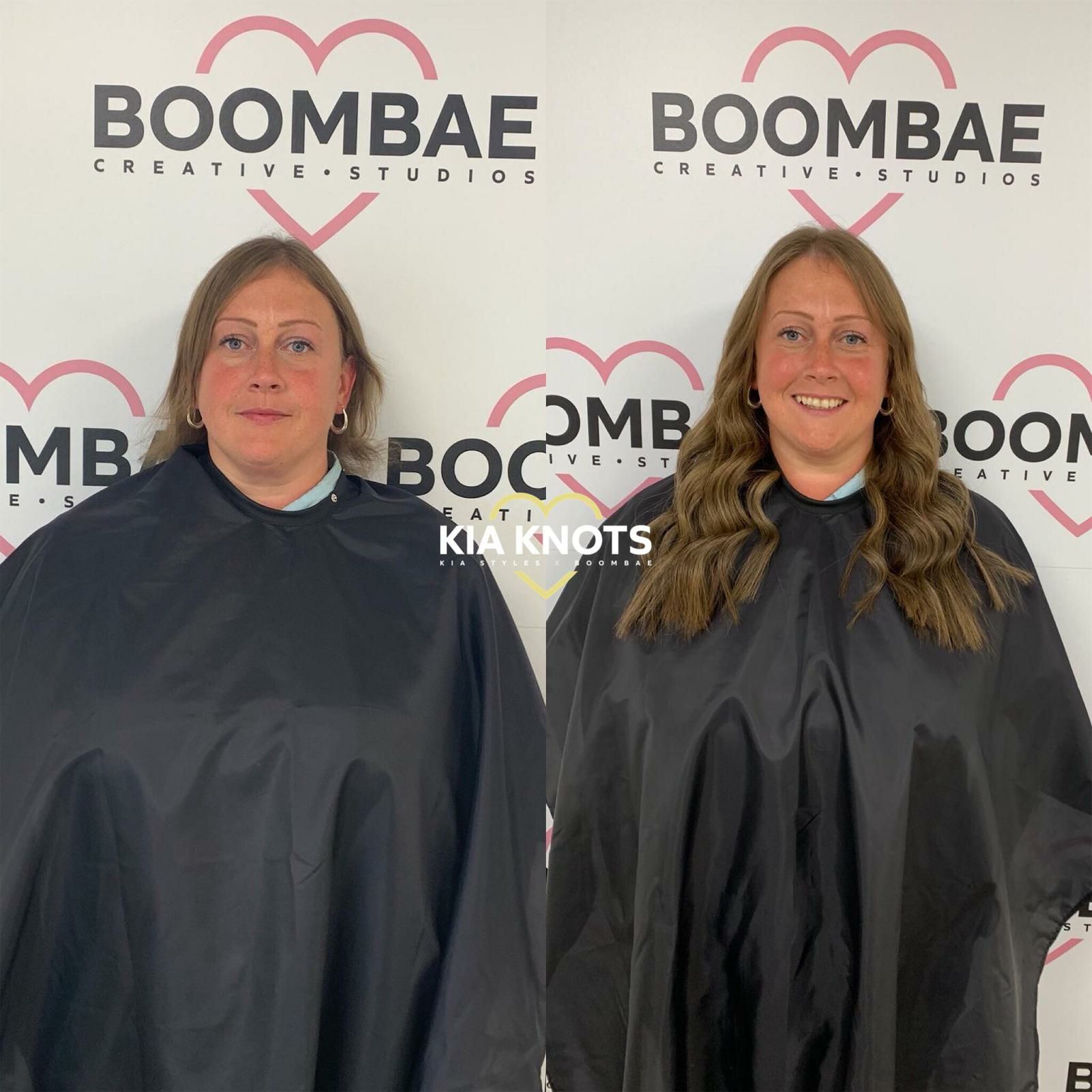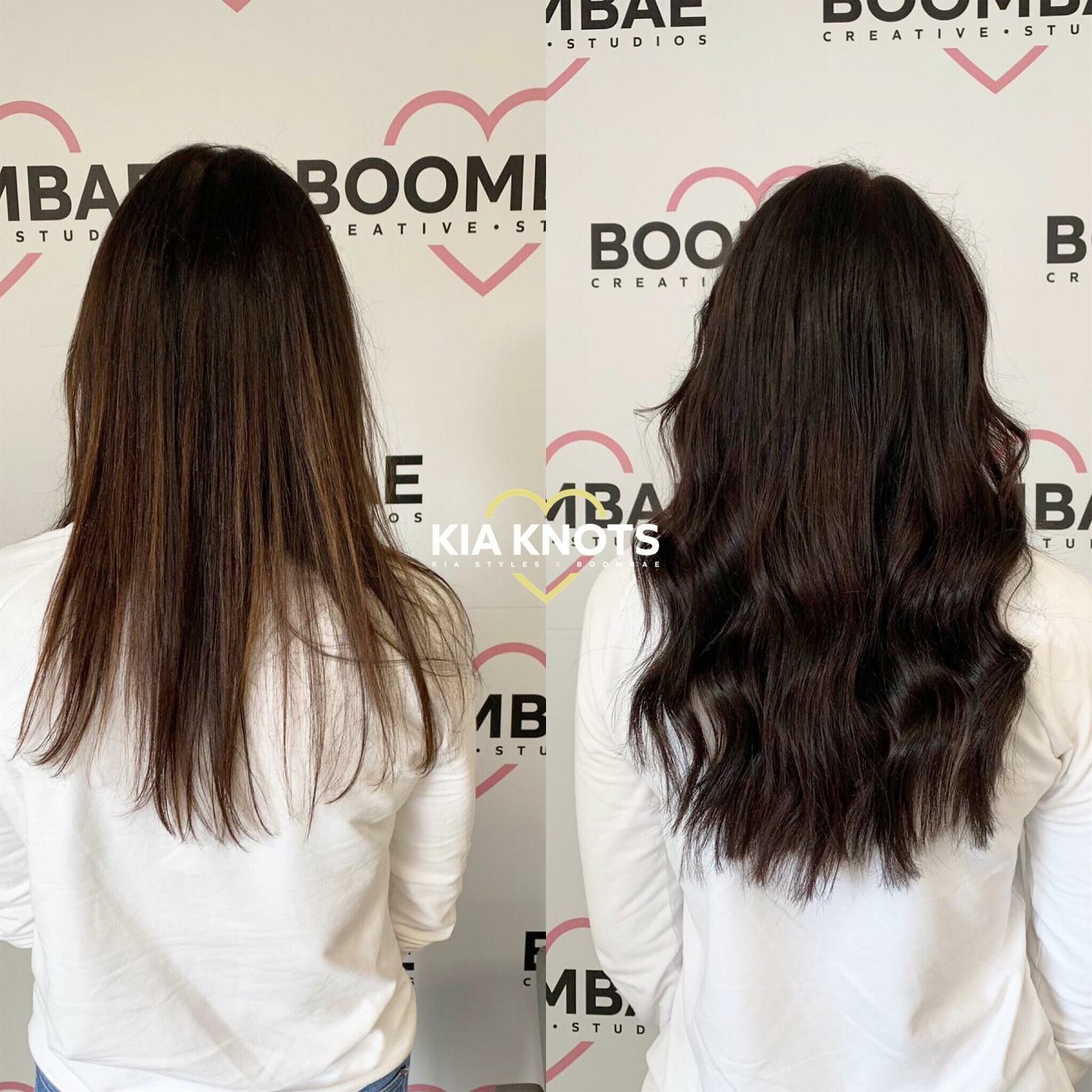 Want extensions now but can't afford them right now? Spread the cost over 3-12 months, high acceptance rates, low interest rates, interest free periods and fast answers.
Boombae. 480 Chester Rd, Old Trafford, Stretford, Manchester M16 9HE